Our Carlisle project has been featured as "First JobsOhio Revitalization Program Project Success" in its 2014 Annual R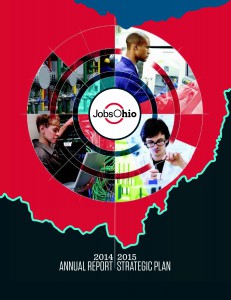 eport released March 2, 2015.
The state's nonprofit economic-development agency provided a low interest loan in the amount of $1MM in support of the historic rehabilitation of Carlisle, the most prominent landmark in Chillicothe, Ohio.
Excerpt of Carlisle Project Feature in JobsOhio 2014 Annual Report
Complete JobsOhio 2014 Annual Report
FOR IMMEDIATE RELEASE
February 14, 2014
Chillicothe, OH – a Lease Signing Ceremony, held yesterday, kicked off the long-awaited collaborative efforts to restore and preserve a beloved landmark in Chillicothe, Ohio. Adena Health System, the largest healthcare provider in the south central Ohio region, signed a 15-year lease to occupy 100% of the historic Carlisle building, using the first floor for community-focused business operations and the upper floors as housing for physician residents and medical students.
The prominent Carlisle Building, located at the corner of Paint and Main Streets, in the heart of Chillicothe's downtown, will undergo an extensive $7 million renovation. The Chesler Group, Inc. (TCG) will restore the circa 1885 Romanesque, four-story building to its former glory.  The facility will include approximately 32 apartments for Adena's medical residents and students who will occupy three floors of living space. The first floor will include offices for some Adena staff, and a community conference space.
"With the solid support of the Adena Board of Trustees, we have taken on this project as a way to meet the housing needs of the young doctors we are bringing to Chillicothe for training; and to give back to the community that supports us by helping to spur economic growth in our downtown," said Adena President and CEO Mark Shuter. "Adena is proud to be able to make this commitment to Chillicothe, our longtime hometown."
Adena's growing Graduate Medical Education (GME) program has made it necessary for Adena to invest in housing for dozens of physician residents and medical students who are training at the local hospital. Shuter added, "By locating dozens of young professionals in downtown apartments, and employees in first-floor offices, Adena can help generate future economic development, bringing in dollars and creating jobs."
Over the past decade, the 35,100 square-foot condemned structure has suffered severe damages and was partially destroyed by arson in 2003 and has been vacant ever since. "This building represents the spine of traditional Chillicothe," Michael Chesler, President of TCG, said. "You tear these buildings down, you lose your sense of history, you lose your sense of place. … When you restore these buildings, it gives everyone a sense of time a hundred years ago." TCG is an award winning, vertically integrated redeveloper of commercial buildings with a special emphasis on the adaptive reuse of historic structures. With over 20 years experience in the restoration construction business, TCG understands the unique challenges facing historic buildings.
The importance of this community revitalization effort has been recognized by JobsOhio, the City of Chillicothe, and the Chillicothe Ross Community Foundation, all of which have played pivotal roles in making this project possible.  TCG will also utilize Federal and State Historic Tax Credits for the project, which is expected to begin in this spring and conclude in late 2015.
# # #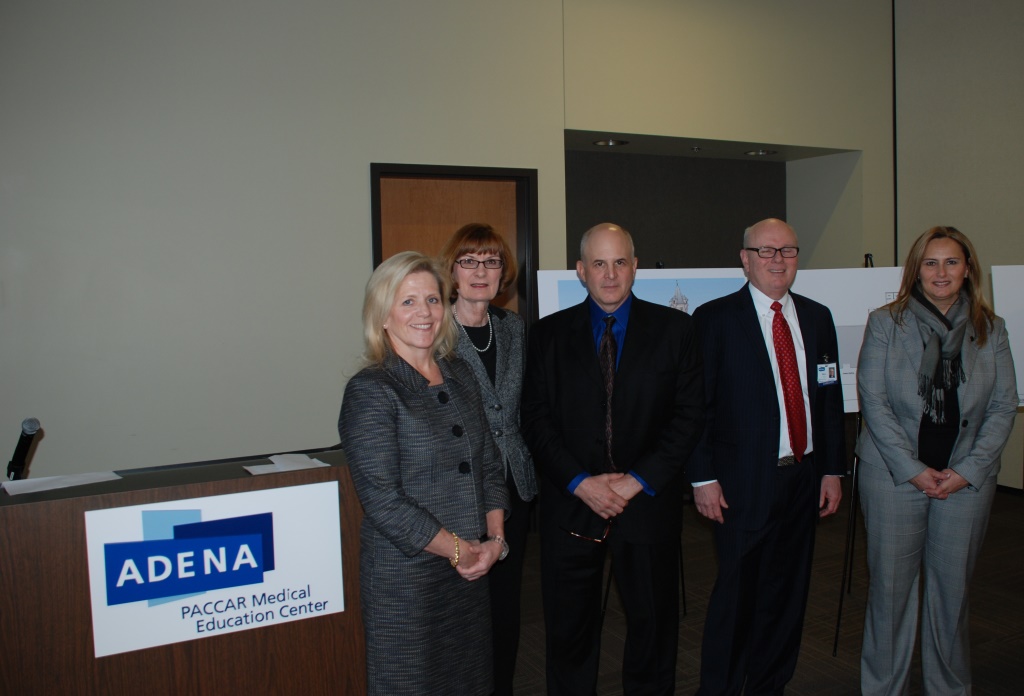 Photo: Chesler Group
The seventh annual national Tour Day brings together Docomomo US membership, chapters, friend organizations, architecture and preservation organizations, students, architects, historians, designers, and enthusiasts to celebrate the modern movement across the US.
Docomomo is short for International committee for the documentation and conservation of buildings, sites, and neighborhood of the modern movement.
Docomomo US is the United States chapter of Docomomo International, a non-profit organization dedicated to the documentation and conservation of buildings, sites and neighborhoods of the modern movement for nearly 25 years.
This year, The Chesler Group, Inc. was contacted to partner in the Docomomo US's Tour Day 2013 on October 5, 2013 to lead an architectural tour of ASM World Headquarters. We are proud to be one of 50 modern buildings and sites nationwide to offer a tour as a part of Tour Day 2013.
ASM World Headquarters epitomizes the optimistic vision of one of America's greatest eras – and yet it is as beautiful, functional and inspiring today as it was the day it opened in 1959. After two years of demolition and complex renovation, we have restored the headquarters of ASM International to its original historic grandeur. The recent restoration received numerous international, national and regional awards. It is an incredibly unique structure and one-of-a-kind in our country. If you're an aficionado of mid-century modern architecture, you really owe it to yourself to experience the building for yourself. A geodesic-domed gem of American Modern architecture near Cleveland is proudly proving that the great buildings of the nation's mid-20th century can be futuristic and historic at the same time.
Tour will be conducted on October 5, 2013 at 10am. Cost is free but advance registration is required via email at caizu@cheslergroup.com by September 30, 2013.
The Mather Mansion is a landmark property on Euclid Avenue in Cleveland, Ohio.
Located on the campus of Cleveland State University, the Mather Mansion is well known for being one of the last of the grand homes on Millionaire's Row.
The Mather Mansion built in 1910 and consisting of 43 rooms, was built for more than $1 million and was the most expensive home in Cleveland at that time.
The Mather which now stands vacant, exemplifies impeccable attention to detail and old world craftsmanship.
Historic photos show the Mather Mansion as it stood in its heyday.
The Ohio Historic Preservation Tax Credit Program Round 10 is Accepting Applications.
This program helps to encourage development in areas where there have been challenges, preventing financial investment and restoration.
Rehabilitating structures and re-building neighborhoods, designated as historical landmarks, is a cost effective way to save buildings, create jobs and promote pride and sustainability in communities.
The Ohio Historic Preservation Tax Credit Program provides a 25 percent tax credit for the rehabilitation expenses to owners and lessees of historically significant buildings.

A building is eligible if it is individually listed on the National Register of Historic Places; contributes to a National Register Historic District, National Park Service Certified Historic District, or Certified Local Government historic district; or is listed as a local landmark by a Certified Local Government. The program is competitive and receives applications bi-annually in March and September.

Over the nine funding rounds, tax credits have been approved for 157 projects to rehabilitate 229 historic buildings in 34 different communities. The program is projected to leverage more $2 billion in private redevelopment funding and federal tax credits directly through the rehabilitation projects.
Without the tax credit many developers might never take the risk to tackle the big projects that can turn around communities.
The application period for Round 10 of the Ohio Historic Preservation Tax Credit program is now open.

A total of $30 million in tax credit allocation is currently available for Round 10 applicants.

All applicants are required to schedule pre-application meetings with both the Office of Redevelopment and the Ohio Historic Preservation Office prior to submitting an application. Applicants are encouraged to contact both offices early in the application submission period to schedule the meetings to ensure availability.
For more information on the Ohio Historic Preservation Tax Credit read more about the programs offered to build communities, create jobs and invest in the people of Ohio.
Click on the link to the presentation below explaining how the Ohio Historic Preservation Tax Credit works:
Michael Chesler, President of The Chesler Group and Gordon Wean, Chairman of the Board of Directors of The Raymond John Wean Foundation, were keynote speakers, discussing their experiences working with the City of Warren and the importance of historical restoration to revitalize downtown.
The Warren Historical Developers Summit held at The Market Block Building at 147 West Market Street in Warren, Ohio was held to share information about Tax Credit programs available to developers to encourage investment in Warren, Ohio.
An early morning breakfast and meet and greet for business owners, developers and city officials, starts off the summit in the Ballroom at the Wean Foundation.
"There's so much value and history in terms of using old historical buildings, not just letting them fall by the wayside. That's what our efforts are focused on today," -Mayor, Doug Franklin.
George Piscsalko of the Trumbull Neighborhood Partnership checking in with Michael Chesler before the presentations.
Drama and intrigue or romantic comedy? What do you see unfolding at ASM?
The Ohio Film Office has added ASM International Headquarters and Geodesic Dome to the roster of film locations in Ohio.
The Ohio Film Office promotes locations with tax incentives to eligible productions spending a minimum of $300,000 in the State of Ohio and includes feature films, music videos sound recordings and more
The Ohio Motion Picture Tax Credit provides a refundable tax credit that equals 25 percent off in-state spending and non-resident wages and 35 percent in Ohio resident wages on eligible productions.
Visit the Ohio Film Office for more information and watch for ASM International on your movie screen!
Prentice can't be saved from destruction.
In a standing-room-only session at the Cook County Board meeting room, the commission voted unanimously 8-0 to deny recommending landmark status for Prentice.
The commission acted at the end of a four-hour meeting full of public comment with a bare minimum of discussion, only a few clarifying questions over less than five minutes, before the vote.
A hard-fought battle by preservationists proves futile in efforts to save Prentice Women's Hospital from demolition. Thursday, February 7, the final decision was made to bring down the Bertrand Goldberg-design owned by Northwestern University.
The news, issued in a press release saying that the Chicago Commission on Landmarks rejected giving the vacant Streeterville building landmark status, was a disappointment to preservationists who fought to save the property for historical restoration.
The Tribune stated that the building does meet the necessary criterion for landmark status giving Northwestern University the official green light to continue with its plans of building a new medical research facility.
Super sensual animal prints don't have to come from animals!
Check out this gorgeous fabric in an alligator pattern that is 100% man made.
These chairs are re-upholstered family heirlooms.
Not just re-covered but re-discovered treasures!
With the same earthy feel and exotic patterns, made made fabrics duplicate the sexy appeal of animal prints without doing any harm to the animals.
These chairs are comfy and easy to care for in soft chenille that is easy on the eyes and on the wallet, as well!
Comfortable and unique styling is available with a little effort and a lot of imagination!
Whether it is something you've found, inherited or have just had lying around since days in your first apartment, you can breathe new life into special pieces to keep them around for a long time.
Adding furnishings with a history or special meaning attached to them creates an environment that is uniquely your own.
It also saves the environment by keeping stuff out of landfills and using less new materials to make new things.
Look for craftsmen who specialize in refinishing and repairing or tackle the project yourself. With a little research and a lot of confidence you can polish up your treasures for a lifetime of enjoyment.
Garage sales and second hand stores offer a great resource for special finds.
And simply looking around your own home for things neglected or stored away can often lead to discovering something forgotten.
Mix everything together; old and new and be sure to choose things that you really like. You almost can't go wrong.
These family heirlooms were refinished and put to good use at The Raymond John Wean Foundation in The Market Block Building where function and fashion go together very well, indeed.