ASM International
9639 Kinsman Road
Russell, OH 44073
map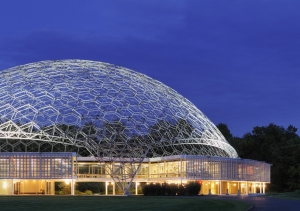 Amenities
Fully Wired for Voice/Data, Free On-Site Parking, Secure Entrances, New Kitchenette, New Bathroom, New Lighting, New HVAC, New Electrical, ADA Compliant.
Potential Uses
Office/Program Space
Listing
National Register of Historic Places
Unique Features
The Chesler Group and Chesler Construction was selected as the historic preservation firm and contractor to complete the $8 million restoration of the ASM International Headquarters building and Dome. The ASM Headquarters and Dome is a globally significant mid-century modern structure and is one of the first "modern" buildings to undergo a historic restoration that meets the Secretary of Interior Standards for Rehabilitation.
Key Facts
Location: Russell Township, Ohio
Designed by: Cleveland architect John Terence Kelly and world-famous mathematician, philosopher and visionary R. Buckminster Fuller
Originally built in: 1959
Renovation completed in: July, 2011
Materials used: Glass, concrete and steel
The geodesic dome is known as the largest open-work lattice dome in the world
The 60,000 square foot headquarters building is on 45-acres of land
The Chesler Group's restoration of the ASM Headquarters was awarded Best Architectural Renovation in 2012 by Wallpaper* Magazine, the London based, internationally circulated, design, architecture, and lifestyle magazine
The renovation was completed true to the vision of the original architects and in compliance with the Secretary of the Interior's Standards for Rehabilitation of Historic Buildings
The interior renovation retained all of the original metal surfaces such as copper, steel, brass; aluminum detail and the stainless steel floating staircase; and original structural concrete floors were polished to reveal stone aggregate
Historic artwork of Nikos Bel-Jon, commissioned by ASM in the 1950's, was discovered during construction, restored and is displayed throughout the building
Interior upgrades included all new finishes, 6 new kitchenettes, 10 conference rooms, 2 new lobbies, a new fitness room and 14 new radial wall bathrooms
The exterior renovation included the refurbishment of the stainless steel solar shades and steel lattice, restoration and re-glazing of 268 historic monumental plate glass windows and frames, repair of the steel perimeter soffit and curved steel fascia, demolition and reconstruction of the bullnose radial concrete arch parapet wall, and complete restoration and waterproofing of the historic green roof plaza
New electrical installations included new gear, power and distribution, rewiring for 200 new LED downlights and restoration of 106, four inch diameter saucer lighting fixtures
A new three stage heating system was installed with state-of-the-art computer controlled pumps and drives complete with Native BACnet automation
Articles
Wallpaper* Magazine awards The Chesler Group with Best Architectural Renovation for ASM
– Wallpaper* Magazine
Architectural firm lands award for ASM renovation
– The News Herald
Sights of Geauga – Materials Mastery: Experience the Renaissance of Materials Park
– Geauga Magazine
Dome to take its place in history
– The Plain Dealer
Three Northeast Ohio projects, including ASM headquarters and dome, win state tax credits
– Cleveland.com
The ASM International complex in Russell Township will soon undergo restoration
– The Plain Dealer web blog
ASM headquarters renovated
– The News-Herald
Progress Preserved
– Properties Magazine
A new challenge: renovating modern buildings
– The Cleveland Plain Dealer
2011 was vital year in the visual arts in Northeast Ohio
– The Cleveland Plain Dealer
Futuristic Office Building Benefits from HTC
– Novogradac & Company LLP
Photo Gallery