Chillicothe Gazette Staff – May 30th, 2014
In the more than 11 years since the Carlisle Building was severely damaged in a deliberately set fire, Chillicothe residents have endured multiple visions for the structure's renovation.
This week, the dreams of renovation drew closer to reality as building officially changed hands.
The Chesler Group officially closed on a purchase of the building and renovations will soon begin with a target date of reopening by next year. Adena Health System will be the main tenant, using the space to house offices and living space for residents.
The Chillicothe-Ross Chamber of Commerce announced the sale Friday, in its weekly newsletter.
"It is with great anticipation that we look forward to the renovation of the Carlisle Building and the revitalization of our entire downtown," said Tom White, chairman of the city's Downtown Development Commission.
Chesler has maintained that work would begin on the famed structure as soon as the closing was finished.
The renovation of the building has long been held as the main catalyst to downtown revitalization and was named as such in a outside downtown study conducted by Hyett Palma in 2007.
Matthew Kent, Chillicothe Gazette – April 29, 2014:
Preparations for the upcoming renovation of the historic Carlisle Building in downtown Chillicothe appear to be taking shape.
The developer of the iconic structure, Michael Chesler, said Tuesday that he plans to begin work in May that will first involve putting up scaffolding once technical and financial details are finalized.
Chesler, who leads the Cleveland-based Chesler Group, signed a 15-year lease in February with Adena Health System, which plans to fully occupy the building late next year.
The $7 million renovation project will have 32 apartments for medical residents and other office space for Adena employees once it is completed. The downtown landmark has stood unoccupied since a 2003 fire damaged the building.
Several efforts have been launched to renovate the structure in the years since the fire, but none gained any traction until the partnership between Adena and Chesler was formed. Chesler said he plans to scaffold the building beginning on the Paint Street side as one of the first steps in the renovation process.
"There are some structural defects, flaws and some structural problems on the Howson Building that are pretty evident for even a layperson to see, and we need to repair those structural defects probably first," Chesler said. "So we're going to have a lot of the debris coming off the front of the building and there's no room yet in the rear, and so we may demolish some of those outstructures.
"And so that's the plan."
He said that will mean "stabilizing parts of the building that are distressed and doing the demolition of the exterior outbuildings from the rear, and that phase will probably take four to six months of stabilization."
Once that is completed, Chesler said, crews will go inside and begin the interior restoration process. He confirmed that the completion date of October 2015 is still on track and that the overall project is ready to move forward.
"We're all ready to go, and we just have to finalize, get all the parties happy to go to work," Chesler said.
Preliminary construction estimates were being performed on the structure on Tuesday, said Todd Wallace, senior project manager with Cleveland-based American Preservation Builders.
Kelly Kight, the city's chief building official, also was among those gathered outside the building.
Kight said the city has issued a permit for the project to allow for temporary electric service in the back of the structure.
Chesler said residents of Chillicothe can thank the president and CEO of Adena Health System, Mark Shuter, for his efforts concerning the Carlisle Building.
"It's a gift to the community, and in addition to getting health care from that organization … they really need to recognize that it was all about Mark Shuter and the board at Adena that made it happen," he said.
Mayor Jack Everson said the renovation work will provide an economic boost to Chillicothe and Ross County once things get started, as Chesler has indicated he intends to use local contractors as much as possible.
Everson added that the upcoming project is a step in the right direction for Chillicothe.
"I think it's the catalyst to the rebirth of downtown," he said.
Steven Litt, The Plainer Dealer – April 22, 2014

A burgeoning cultural node in Ohio City on Cleveland's near West Side could soon get a serious boost if the nonprofit art gallery Spaces can raise enough cash to move into the neighborhood.
After months of quiet negotiations, Spaces is close to signing a lease with developer Michael Chesler, owner of the 14,000-square-foot brick industrial building at the southeast corner of West 29th Street and Detroit Avenue.
Moving into the area, dubbed Hingetown by local developers Graham Veysey and Marika Shioiri-Clark, would bring Spaces cheek by jowl with the new Transformer Station gallery, and with Veysey and Shioiri Clark's Ohio City Firehouse and Striebinger Building.
Also located nearby are ICA Art Conservation; the Van Roy Building, owned by Chesler; and the former Bop Stop jazz club, recently donated to University Circle's Music Settlement.
Chesler and John Farina, president of the Spaces board, see the opportunity for a strong fit with a neighborhood that is quickly becoming a West Side cultural mecca.
"This is an opportunity to graduate to the next phase of what Spaces does in terms of serving artists and the community overall," Farina said. "It's the next part of our evolution."
Chesler, who said he is offering Spaces a below-market lease, said he's equally pleased to have the chance to add to the dynamism of the area.
"We're going to do something cool that will benefit the neighborhood forever," Chesler said Monday during a tour of his building. "This [the potential Spaces move] would change the whole deal for this part of Ohio City forever."
Spaces, established in 1978, is devoted to showing experimental works by emerging and mid-career artists.
In November 2013, the organization signed a deal to sell its three-story, 19th-century vintage loft building at 2220 Superior Viaduct for $418,000.
The organization decided to sell the building, which it had owned since 1990, because the location came to feel isolated and unrelated to surrounding developments, including the StoneBridge Apartments, built in 2007.
Spaces recently signed a "hold agreement" with Chesler, which gives the gallery six months to sign a lease for the Ohio City building.
Farina said that Spaces has launched a $3 million capital campaign, of which it needs to raise roughly half, or $1.5 million, in order to sign the lease. So far, the organization has gathered $500,000 in cash and pledges, so it is pushing to raise the remaining $1 million by October.
Farina said his confidence about getting the job done is "high, very high. We're getting an excellent response. Nobody is coming back to us and saying, 'You guys are out of your minds.' "
Architect John Williams of Cleveland's Process Studio, a former president of the Spaces board, is designing a minimal renovation of the Ohio City building intended to preserve its rugged industrial look.
The interior would feature about 5,000 square feet of gallery space, about what Spaces has now in its Superior Viaduct building.
Built in the 1950s, the Ohio City building features a structure of steel columns and trusses with 20-foot ceilings and facades of brick and concrete block. Its most notable feature is a large window spanning most of its long west façade with windowpanes or opaque panels in varying hues that create a checkerboard look.
Farina and Chesler said they both feel the windows are essential to the building's identity, and that they intend to preserve their patchy appearance.
Chesler, who bought the building in 2011 for $270,000, said it was previously used as a fabricating facility for large steel water purification tanks.
Among its special features are a series of ceiling cranes that will be preserved and may be used by artists who need to move around heavy objects.
Christina Vassallo, who was appointed as the new executive director of Spaces in December, said she's thrilled to join the organization at what is shaping up to be a pivotal moment in its history.
She moved to Cleveland recently after having spent three years as executive director and curator of Flux Factory NYC, which organizes exhibitions, artist residencies and collaborative projects.
About the potential move for Spaces, Vassallo said: "We are still going to be Spaces, but with a very long future ahead of us."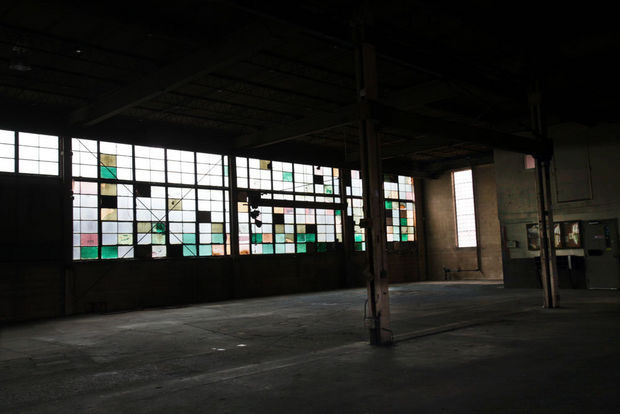 FOR IMMEDIATE RELEASE
February 14, 2014
Chillicothe, OH – a Lease Signing Ceremony, held yesterday, kicked off the long-awaited collaborative efforts to restore and preserve a beloved landmark in Chillicothe, Ohio. Adena Health System, the largest healthcare provider in the south central Ohio region, signed a 15-year lease to occupy 100% of the historic Carlisle building, using the first floor for community-focused business operations and the upper floors as housing for physician residents and medical students.
The prominent Carlisle Building, located at the corner of Paint and Main Streets, in the heart of Chillicothe's downtown, will undergo an extensive $7 million renovation. The Chesler Group, Inc. (TCG) will restore the circa 1885 Romanesque, four-story building to its former glory.  The facility will include approximately 32 apartments for Adena's medical residents and students who will occupy three floors of living space. The first floor will include offices for some Adena staff, and a community conference space.
"With the solid support of the Adena Board of Trustees, we have taken on this project as a way to meet the housing needs of the young doctors we are bringing to Chillicothe for training; and to give back to the community that supports us by helping to spur economic growth in our downtown," said Adena President and CEO Mark Shuter. "Adena is proud to be able to make this commitment to Chillicothe, our longtime hometown."
Adena's growing Graduate Medical Education (GME) program has made it necessary for Adena to invest in housing for dozens of physician residents and medical students who are training at the local hospital. Shuter added, "By locating dozens of young professionals in downtown apartments, and employees in first-floor offices, Adena can help generate future economic development, bringing in dollars and creating jobs."
Over the past decade, the 35,100 square-foot condemned structure has suffered severe damages and was partially destroyed by arson in 2003 and has been vacant ever since. "This building represents the spine of traditional Chillicothe," Michael Chesler, President of TCG, said. "You tear these buildings down, you lose your sense of history, you lose your sense of place. … When you restore these buildings, it gives everyone a sense of time a hundred years ago." TCG is an award winning, vertically integrated redeveloper of commercial buildings with a special emphasis on the adaptive reuse of historic structures. With over 20 years experience in the restoration construction business, TCG understands the unique challenges facing historic buildings.
The importance of this community revitalization effort has been recognized by JobsOhio, the City of Chillicothe, and the Chillicothe Ross Community Foundation, all of which have played pivotal roles in making this project possible.  TCG will also utilize Federal and State Historic Tax Credits for the project, which is expected to begin in this spring and conclude in late 2015.
# # #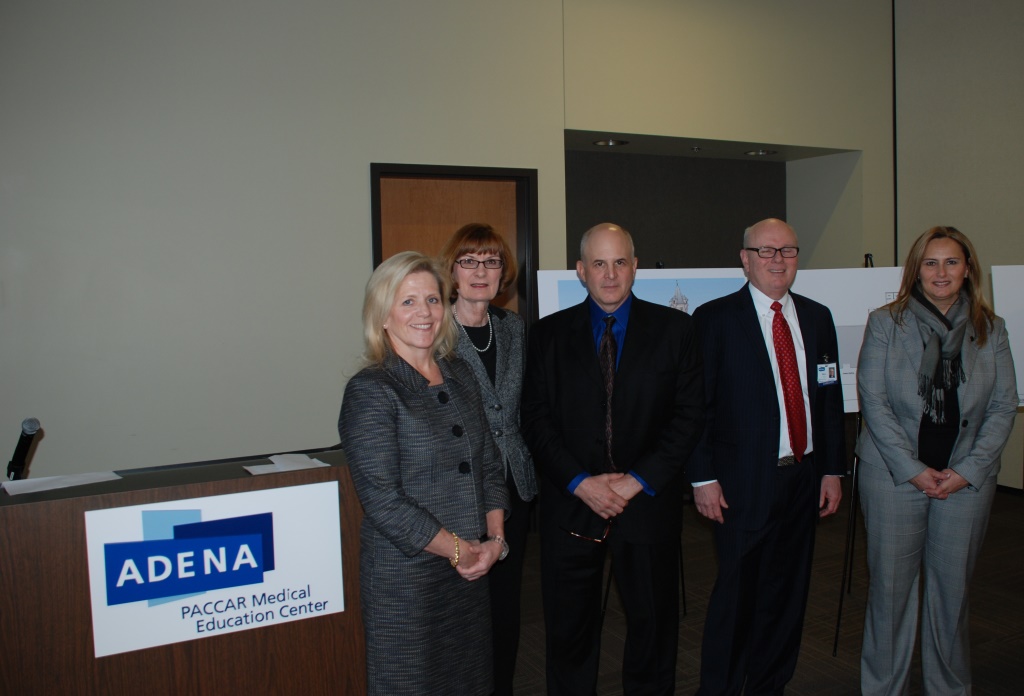 Photo: Chesler Group
The seventh annual national Tour Day brings together Docomomo US membership, chapters, friend organizations, architecture and preservation organizations, students, architects, historians, designers, and enthusiasts to celebrate the modern movement across the US.
Docomomo is short for International committee for the documentation and conservation of buildings, sites, and neighborhood of the modern movement.
Docomomo US is the United States chapter of Docomomo International, a non-profit organization dedicated to the documentation and conservation of buildings, sites and neighborhoods of the modern movement for nearly 25 years.
This year, The Chesler Group, Inc. was contacted to partner in the Docomomo US's Tour Day 2013 on October 5, 2013 to lead an architectural tour of ASM World Headquarters. We are proud to be one of 50 modern buildings and sites nationwide to offer a tour as a part of Tour Day 2013.
ASM World Headquarters epitomizes the optimistic vision of one of America's greatest eras – and yet it is as beautiful, functional and inspiring today as it was the day it opened in 1959. After two years of demolition and complex renovation, we have restored the headquarters of ASM International to its original historic grandeur. The recent restoration received numerous international, national and regional awards. It is an incredibly unique structure and one-of-a-kind in our country. If you're an aficionado of mid-century modern architecture, you really owe it to yourself to experience the building for yourself. A geodesic-domed gem of American Modern architecture near Cleveland is proudly proving that the great buildings of the nation's mid-20th century can be futuristic and historic at the same time.
Tour will be conducted on October 5, 2013 at 10am. Cost is free but advance registration is required via email at caizu@cheslergroup.com by September 30, 2013.
Matthew Kent, Chillicothe Gazette – April 21, 2013:
City Councilman Dustin Proehl still remembers that childhood feeling of walking by the Carlisle Building and seeing it as a castle of sorts.
Ten years after a major fire ravaged the structure and ignited a debate about its future, he still thinks it can be restored, despite his frustration about the lack of progress in doing so.
"I think it would benefit not only the Carlisle, but other businesses in the area," Proehl said of restoring the structure that was erected in 1885. "I want to see them restore it because it is such an iconic building to the downtown. We have a lot of nice old buildings in the downtown, but it's so unique in its design and so uniquely Chillicothe that it would be nice to see it rebuilt."
Proehl, who grew up in Chillicothe, said he eventually would like to see retail stores on the first floor. He also hopes the city will move forward with putting in angular parking, an idea he once pitched that wasn't well-received by council
members in the past.
Breathing some sort of new life into that corner of Paint and Main would be helpful, said Brien Corwin, who said he thinks the unoccupied building has had a negative effect on downtown businesses in recent years. Corwin, a manager at Frank's Pawn Shop near the Carlisle Building, said he supports tearing down the historic structure, but stressed that if some type of development of the building was to occur, it would be a positive move.
"We only want what's best for the downtown area," Corwin said. "Anything in there is better than nothing."
The Carlisle has sat empty since the April 25, 2003, fire that caused damage originally in excess of $600,000. Two teenagers, Dustin Cousins and Chance Copp, were arrested in June that year for illegally entering the building and
setting the fire. The pair ultimately admitted to charges of arson and breaking and entering in Ross County Juvenile Court and were sentenced to probation for their roles.
Since then, a parade of starts and stops, promises and disappointments, have marked efforts to restore the building to its previous grandeur. In December 2003, KG&R Development Corp. bought the building for $80,000 under the
Carlisle LLC entity and promised $2.4 million in upgrades would begin the next spring.
A ceremony was conducted about a year later to mark the start of renovations after six weeks of preparation by the organization, but work stopped on the project in August 2005 because of an inability to line up future tenants for the
structure. Five months later, with work having stopped, city officials filed a failure to comply complaint against the developer because of code violations.
Another group, Carlisle Tower LLC, bought the building in 2007, but that entity also eventually faced property code violations and was fined $1,200 fine in 2010 after being taken to court by the city.
That same year, a downtown economic revitalization study conducted by the HyettPalma firm concluded the Carlisle Building was of utmost importance to a thriving downtown — because of its location, its architectural significance and
its unique symbolic role. The study envisioned retail shops and eateries on the first floor, apartments and professional offices on its upper floors and some use as city offices or by the city's municipal court, as well. It concluded that returning the building to local control in pursuit of investors was the best approach to get restoration efforts under way.
In August 2009, city officials decided to move forward with placing a 0.1 percent income tax levy on the ballot to buy the Carlisle Building, but 76 percent of voters rejected the proposal.
Enter The Chesler Group, a Cleveland-based firm that works on historic properties, which has taken the lead on the latest efforts concerning the Carlisle, with the firm partnering with Adena Health System in an attempt to rehabilitate
the 35,000-square-foot structure for hospital use involving nonclinical functions. A retail pharmacy, office space, housing for medical students and staff, along with creation of a community room, are part of the proposed 6.5 million plan, hospital officials said.
Adena Health System President and CEO Mark Shuter said in a statement Friday that Adena Health System "remains committed to working toward the viability of the project to rehabilitate the Carlisle Building into valuable office space
and living quarters for our medical residents."
"Caring for our community goes beyond the mission of health care," Shuter said. "Details continue to be discussed but we remain enthusiastic about working in partnership with others to restore the vitality of our city's core by bringing
progress and economic development to our city."
The partnership received a boost in December 2012 after The Chesler Group received a $1.4 million tax credit from the Ohio Development Services Agency. The Chillicothe-Ross Community Foundation also has stepped up and is
expected to be involved in the renovation through an investment. Scott Graham, executive director of the foundation, has declined to comment on the Carlisle project.
Michael Chesler, who serves as president and CEO of The Chesler Group, told the Gazette earlier in the week that he likely would be able to provide some updated information Friday on the most recent progress on the project. However, the Gazette was unable to reach him by phone Friday, and numerous messages left on his cellphone were not returned as of press time.
The city itself had been part of the original discussion with Chesler and Adena involving the possibility of a portion of the building being used to house city offices. Mayor Jack Everson pulled the city out of the possible partnership this
past August, however, citing budgetary concerns and the upward of $2 million in costs the city would have faced if it moved forward. City council members never officially voted on the partnership possibility, but the initial idea to become involved in the partnership was something Everson had hoped to persuade council to pursue.
Everson, who was at home with his wife at the time of the fire, said "a fully restored Carlisle Building is the best answer" and that moving forward with Chesler's plan is the "absolute best option on the table" at the present time.
"I'm 100 percent behind it," Everson said Friday.
If the deal between Adena and Chesler falls through, Everson said he isn't aware of any alternatives and expressed concern about the building being able to hold its own weight while waiting for someone else to come in and take it
over.
He said the city likely wouldn't take that chance if public safety was at risk. Demolishing the building would cost the city anywhere from $1.5 million to $2 million, said Everson, adding that without the Carlisle, "there would be a
definite hole in the landscape."
"It would really be a shame to the city of Chillicothe aesthetically and financially," he said.
Sue Troester, of the Chillicothe Restoration Foundation, owned the building from 1991 to 1996 with her husband, and said that although some "bumps in the road" have occurred, she wants to see something happen, adding that the building still has a great deal of potential.
"It's a wonderful building," she said. "It is not the pitfall it's made out to be."
If the landmark is torn down, "it would leave a terrible gap, and there's nothing that could add to the downtown," she said.
"The city needs its history. We can't destroy our own roots," Troester said. "People need to value these things and they can be made useful."
We are pleased to announce that The Market Block Building at 147 West Market Street in Warren, Ohio has been honored with the Best Commercial Rehabilitation Award by Heritage Ohio. "This award is presented to one or more individuals, tenants or building owners who have completed the best storefront, interior and/or total building improvement project in the State of Ohio based on proper preservation techniques." (Heritage Ohio)
The historic storefront located at Warren's Courthouse Square was completely restored by The Chesler Group, Inc. in June 2012 as the new home for The Raymond John Wean Foundation. This renovation conjoined three separate dry goods buildings, originally built in 1868, directly in front of the Trumble County Courthouse. We incorporated a functional yet highly creative layout that allowed for natural light to penetrate the new office and meeting spaces, while meticulously restoring and preserving the historic details of the building.
The restoration included the creation of a 120-person multi-purpose assembly room, known as the Western Reserve Room, to serve the Mahoning Valley as a community meeting space.  The basement was converted to a functional garden level and is outfitted as incubator office space for new and/or upcoming non-profit programs.  The rehabilitation underscores our commitment to restoring historic buildings in the State of Ohio and its neighborhoods.
The award will be celebrated at Heritage Ohio's Annual Awards Luncheon on May 23, 2013.
The Mather Mansion is a landmark property on Euclid Avenue in Cleveland, Ohio.
Located on the campus of Cleveland State University, the Mather Mansion is well known for being one of the last of the grand homes on Millionaire's Row.
The Mather Mansion built in 1910 and consisting of 43 rooms, was built for more than $1 million and was the most expensive home in Cleveland at that time.
The Mather which now stands vacant, exemplifies impeccable attention to detail and old world craftsmanship.
Historic photos show the Mather Mansion as it stood in its heyday.
The Ohio Historic Preservation Tax Credit Program Round 10 is Accepting Applications.
This program helps to encourage development in areas where there have been challenges, preventing financial investment and restoration.
Rehabilitating structures and re-building neighborhoods, designated as historical landmarks, is a cost effective way to save buildings, create jobs and promote pride and sustainability in communities.
The Ohio Historic Preservation Tax Credit Program provides a 25 percent tax credit for the rehabilitation expenses to owners and lessees of historically significant buildings.

A building is eligible if it is individually listed on the National Register of Historic Places; contributes to a National Register Historic District, National Park Service Certified Historic District, or Certified Local Government historic district; or is listed as a local landmark by a Certified Local Government. The program is competitive and receives applications bi-annually in March and September.

Over the nine funding rounds, tax credits have been approved for 157 projects to rehabilitate 229 historic buildings in 34 different communities. The program is projected to leverage more $2 billion in private redevelopment funding and federal tax credits directly through the rehabilitation projects.
Without the tax credit many developers might never take the risk to tackle the big projects that can turn around communities.
The application period for Round 10 of the Ohio Historic Preservation Tax Credit program is now open.

A total of $30 million in tax credit allocation is currently available for Round 10 applicants.

All applicants are required to schedule pre-application meetings with both the Office of Redevelopment and the Ohio Historic Preservation Office prior to submitting an application. Applicants are encouraged to contact both offices early in the application submission period to schedule the meetings to ensure availability.
For more information on the Ohio Historic Preservation Tax Credit read more about the programs offered to build communities, create jobs and invest in the people of Ohio.
Click on the link to the presentation below explaining how the Ohio Historic Preservation Tax Credit works:
Michael Chesler, President of The Chesler Group and Gordon Wean, Chairman of the Board of Directors of The Raymond John Wean Foundation, were keynote speakers, discussing their experiences working with the City of Warren and the importance of historical restoration to revitalize downtown.
The Warren Historical Developers Summit held at The Market Block Building at 147 West Market Street in Warren, Ohio was held to share information about Tax Credit programs available to developers to encourage investment in Warren, Ohio.
An early morning breakfast and meet and greet for business owners, developers and city officials, starts off the summit in the Ballroom at the Wean Foundation.
"There's so much value and history in terms of using old historical buildings, not just letting them fall by the wayside. That's what our efforts are focused on today," -Mayor, Doug Franklin.
George Piscsalko of the Trumbull Neighborhood Partnership checking in with Michael Chesler before the presentations.