Southworth Mansion
3334 Prospect Ave
Cleveland, OH 44115
map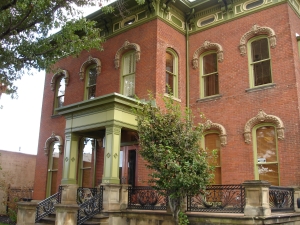 Parking
25 Cars on site, 5 Indoor, Free Street Parking
Total Square Footage
12,500 sq. ft.
Listing
National Register of Historic Places
Unique Features
Built in 1879 in the Italianate Style for W.P. Southworth, a well known Cleveland industrialist.
Location
Midtown on Prospect Avenue, in Cleveland's historic Prospect Neighborhood. Immediately accessible to I-90 and I-71. Minutes to central business district.
Historical Information
1879
Two-story Victorian Italianate mansion was built for W. P. and Louise Southworth as their private residence. W.P. Southworth was proprietor of a wholesale and retail grocery business located on Public Square. Louise Southworth was very active in the suffrage movement and headed the local effort to secure signatures for woman's right to vote.
1910
Utilized by Baptist Home of Northern Ohio
1950's – 1960's
Building was known as Edelmar Building and occupied by commercial firms
Late 1960's
Building was known as Accountants building
1973
Purchased by Pi Sigma Tau Alpha fraternity. Building was used as a fraternity house for CSU Delta Sigma Phi Fraternity
1984
Nominated for National Register of Historic Places
1996
Purchased by Michael E. Chesler
1997
Purchased by Horizon Health Services LLC
August 2005
Purchased in auction by The Chesler Group, Inc.
September 2005
Historic Restoration Process
2006
Sold
October 2007
Completion of Historic Restoration
Articles
127 years old and looks new
– The Plain Dealer
Photo Gallery