McGuffy School
1515 West 29th Street
Cleveland, OH 44113
map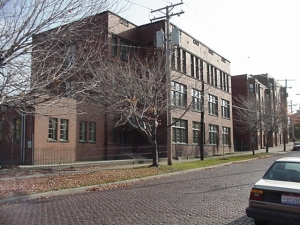 Parking
40 cars
Total Square Footage
25,000 Sq Ft.
Listing
National Register of Historic Places
Unique Features
Well designed and robust Neo-classic brick building. Originally a grade school, the building has numerous large rooms with high ceilings and abundant light. Designed by Frank Barnum, specialist in the design of fireproof schools. Third floor gymnasium. Clear views of Cleveland skyline. ADA compliant.
Location
In the heart of Cleveland's Ohio City overlooking the historic Franklin Circle. Near Shoreway access and public transportation.
Historical Information
1861
Opened at this site as West High School (Cleveland's Second Public High School)
Mid 1880's
Building used as a private school
Mid 1890's
A public school know as West Manual Training School
1906
West Manual Training School and Boys School
1909
Current building is constructed as an annex
1911
Complex becomes The School for Incorrigible Boys, operated by Cuyahoga County through 1920's
1930's
Offices for various social service agencies including: The Cuyahoga County Relief, Administration and National Youth Administration
1938
North building is raised
Late 1940's
Renamed William Holmes McGuffey School, a Cleveland Public School, in existence through here until 1975
1976
Converted into "live work" spaces, later becomes vacant
1997
Listed as condemned
May 2000
Purchased by Michael E. Chesler and investors
April 2001
The McGuffey School building is recognized by the U.S. Department of the Interior and is added to the National Register of Historic Places
October 2001
Historic Restoration Process
November 21, 2002
Grand Opening Celebration
Dedication of The McGuffey School as the permanent home of The Covenant Adolescent Chemical Dependency Treatment & Prevention Center, Inc.
2008
Sold
Read More
Articles
Restoration gives Ohio City's old McGuffey School new purpose
– The Plain Dealer
Photo Gallery