Kies-Murfey House
4208 Prospect Ave
Cleveland, OH 44103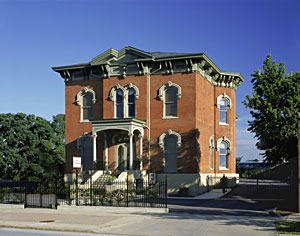 Parking
30 cars, Free Street Parking
Total Square Footage
8,000 Sq Ft.
Listing
National Register of Historic Places
Leasing & Sales Information
Available Space
8,000 Sq. Ft. (Multiple tenants)
Availability
March 2014
Amenities
Secure Entrance, Free On-site gated parking for 30 cars, ADA Compliant.
Potential Uses
Office
Sales Price
$1,800,000
For more information, call (216) 431-9100.
Unique Features
Highly stylized, turn-of-the-century, Italianate Mansion built as a family home for Louis Kies in 1871. In 1906 the mansion was sold to Lewis A. Murfey. Murfey was a Cleveland native and a "prominent figure in Cleveland financial circles for the part quarter century." (Cleveland Press, December 11, 1930.) The mansion features large, high-ceilinged rooms, historic design finishing, ample storage, accommodations for multiple tenants. ADA compliant.
Location
Midtown on Prospect Avenue, in Cleveland's historic Prospect Neighborhood. Immediately accessible to I-90 and I-71. Minutes to central business district.
Historical Information
1874
Two-story Italianate mansion built for Lewis and Hanna Kies Lewis Kies was western superintendent of Empire Railroad
1904
Funeral for Kies in house
1910
Sold to Lewis and Nina Murfey. Lewis Murfey was first Vice President of State Banking and Trust Company
1929
The house became a rooming house operated by Mrs. Ella O. Spencer
1949
Whaley Industrial Supply Company converted house to commercial use, removing the original porch and adding a single-story masonry addition to the front of the house
Mid 1980′s
Purchased by Arabica for headquarters, coffee counter and bakery
June 2002
Purchased by Michael E. Chesler
September 2002
Ground broken for renovation
February 2003
Nominated for National Register of Historic Places
June 3, 2003
Grand Opening Celebration
Dedication of the Kies-Murfey House as the permanent home of the Saint Luke's Foundation of Cleveland
Articles
Builders Exchange The Magazine
Kies-Murfey Mansion: Restoration of Another Prospect Avenue Grand Dame
Properties Magazine
$1.2 million goes into renovation of Prospect house
The Plain Dealer
Renovated building will be good as old
The Plain Dealer
In Your Space – Foundation polishes Midtown jewel
The Plain Dealer
Photo Gallery