Andrew Jackson House
277 E. Mill Street
Akron, OH 44308
map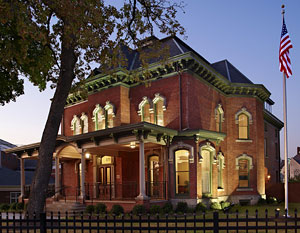 Parking
On site lot – 40 cars, with 250 car adjacent parking owned by First Methodist Church
Total Square Footage
16,000 Sq. Ft.
Listing
National Register of Historic Places
Unique Features
Built circa 1868 in the Second Empire style as a family home for an Akron merchant, Andrew Jackson. This highly stylized mansion features large rooms, 12-foot ceilings, historic woodwork, and ample storage, and unique private open space with skylights on the loft level. State-of-the-art Variable Refrigerant HVAC system. ADA compliant.
Location
The Andrew Jackson House is located at the corner of East Mill and Union Street in Akron, Ohio, adjacent to the University of Akron campus. The structure is a prominent building in downtown Akron across the street from the historic Hower House.
Historical Information
For the past 130 years, The Andrew Jackson House, aka the Odd Fellows Temple, has been an important feature and reminder of Akron's strength as powerhouse of American industrialism. From 1868 to 1918 it was the residence of two elite Akron business families and from 1918 to 1994 it was the fraternal lodge of the Odd Fellows where its membership was made up of Akron's most accomplished officials and professionals.
The handsome Second Empire style house was constructed between 1868 and 1870 by Andrew Jackson. Jackson was one of the founders of Jackson, Buchtel and Company in 1865, a lumber firm which developed large logging tracts in Michigan. His partner William Buchtel was the brother of John R. Buchtel, the founder of Buchtel College which was the forerunner of the University of Akron. Buchtel remained with Jackson only until 1871, when he organized his own lumber company, and later became an important banker.Jackson was then associated with John H. Hower, the industrialist who built the great Fir Hill Second Empire mansion which is listed in the National Register of Historic Places. By 1879 Jackson also became a contractor and builder in addition to dealing in lumber, sash, doors, blinds, etc.
At the turn of the century the house was sold to John T. Johnson, general superintendent of Cleveland Terminal and Valley Railroad and of the Akron Division of the B. & O.
In 1918, it was then acquired from Johnson by the Akron I.O.O.F. aka The Odd Fellows. Organized in 1845, the Akron lodge had built its own temple on Main Street in 1892. They sold that building and purchased the Jackson-Johnson house in 1918, occupying it in 1919 after extensive renovations that created the great meeting room and other large open meeting spaces and office rooms.
Among the original incorporators of the Odd Fellows were A.C. Buchtel, Clerk of Common Pleas Court and I.O.O.F. Grand Master of Ohio, and James Corey, Chairman of the Republican Party of Summit County. The membership of the Odd Fellows has included the most important city officials and experts in all professions in the life of Akron.
The Jackson House has been acquired by The Chesler Group, Inc. in 2007 and will be renovated again for another important Akron organization.
Sold in 2015.
Read MoreCollapse
Articles
Reviving a Relic
Properties Magazine
Victorian Home Lovingly Restored into Office Space
Akron Beacon Journal
Photo Gallery