Former President Clinton paid a visit to Chesler Group's latest historic rehabilitation project, The Carlisle Building, yesterday, March 9, 2016. Clinton toured Chillicothe's, Ohio most prominent landmark, which just recently has been restored to its old days' glory by Chesler Group. Clinton met with Chesler Group's tenant Adena Health System and Chillicothe's Mayor Luke Feeney and enjoyed the story of Carlisle's amazing transformation.
Clinton emphasized the importance of the Federal historic tax credit program for historic restoration projects, which he supported under his administration and continues to do so.
The Carlisle Building made it onto the front cover of the Novogradac Journal of Tax Credits – January 2016 issue.
"The centerpiece of city's historic business district was recently rehabilitated thanks to The Chesler Group and one of the city's largest employers, Adena Health System."
Historic Building Saved, Repurposed in Chillicothe, Ohio by Mark O'Meara.
Please click below to read the full article.
Historic Building Saved, Repurposed in Chillicothe, Ohio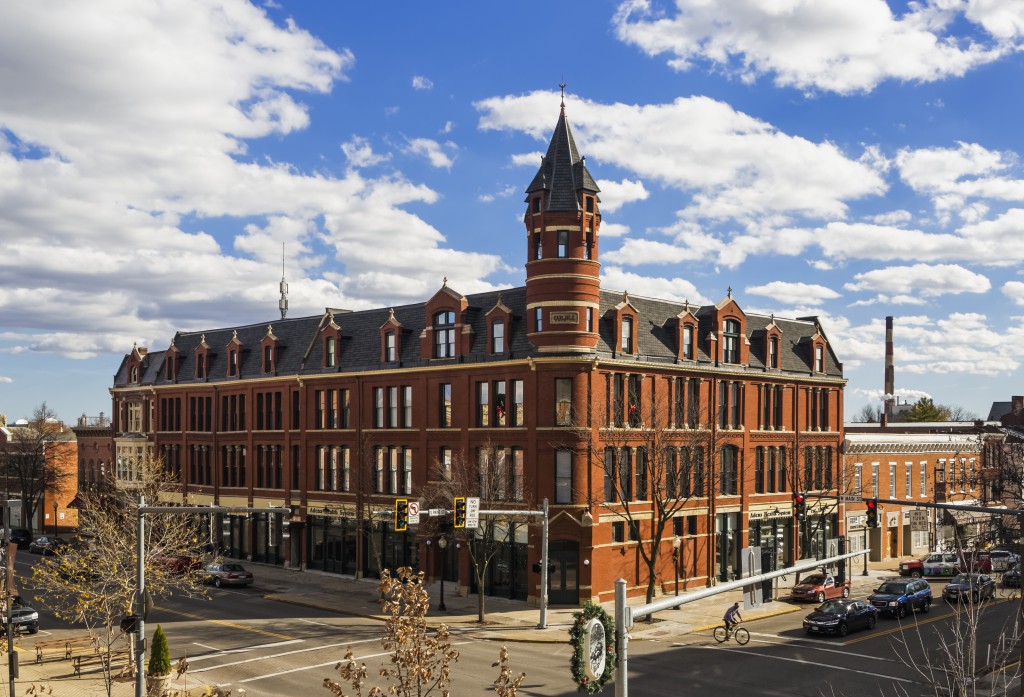 We are proud to announce that the Carlisle Building is near completion! The tremendous progress that has been made can be seen in the recent video tour and article of the building featured in the Chillicothe Gazette. Please click the link below for the video.
The intriguing history of The Chesler Group and how Michael Chesler found his way into historic renovation has recently been featured in the Chillicothe Gazette.
Puppy Played Role in Chesler's Preservation Career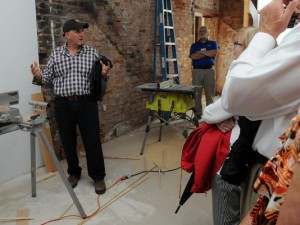 CHILLICOTHE – When Michael Chesler took on the task of rehabilitating the Carlisle Building, he might have been one of the few to understand how big of a risk he was taking.
He wanted to keep it that way.
"The structural problems were overwhelming," Chesler said. "I minimized it continuously because I didn't want to frighten Adena or the stakeholders around here. That's what I get paid for is to deal with the fear."
There was plenty to fear early in the $8 million to $10 million project, with damage from a 2003 fire followed by years of relative neglect leaving Chesler to wonder whether the building he'd chosen to rehabilitate would come crashing to the ground in the process. It didn't during the first phase of the project reinforcing the building's structure, and the ability to manage that fear will be rewarded in mid-October when the cornerstone of Chillicothe's downtown reopens with a new tenant in Adena Health System and the ability to influence the rest of downtown redevelopment.
That's not bad for an English literature major with no formal training in building projects who got his start in the field in large part because of a puppy.
Chesler, from the period of 1982 to 1988, was using skills learned from his time at Case Western Reserve University working as an East Asia analyst for Time magazine, spending six months of each year in Japan and the other six back in his hometown of Cleveland.
During one of those stints back in the States, he decided to start his first company here and because his office in Tokyo was open in what is the middle of the night in Ohio, he had time during the day to try and find an office space in the Cleveland area in which to work.
"I had a brand new bird dog puppy – I'm a very avid ruffed grouse hunter and I had this little English Setter puppy and no one would rent me an office because I had this puppy," Chesler said. "I then had no choice but to buy a building, which I didn't want to do. I bought an old, crappy, run down, historic mansion on Prospect Avenue – I didn't even buy it, I had no money. My friend's father owned it and he loaned me all the money to buy the building, and I fixed it up weekends over the course of a year."
Thus was born The Chesler Group Inc. in 1988, followed by Chesler Construction LLC, a division of the company formed, according to Chesler's website, "by the need to control construction costs and maintain high quality standards."
The rehabilitation work on his original project, the Gaensslen Mansion on Prospect Avenue, was completed in 1990 and won Chesler an Archaelogical Institute of America preservation award for best renovation of a historic structure in a ceremony he didn't attend because he was in Japan at the time. As a result, his company started buying a building each year to fix up.
So how does someone with no formal training in building rehabilitation become one of the driving forces in historic preservation efforts who has, to date, successfully renovated around 30 historic buildings and been presented the Individual Merit Award from the Ohio Historic Preservation Office for more than 20 years of work in the field?
"I was always good at understanding how things went together," he said. "I'm an English literature major, I have no training in any of this, but I was always one of those guys who could see how everything was built and constructed in the same weird way as those guys who can play the piano but never took any lessons."
Now, he carries what he's learned over a wide variety of complex historical renovations into each new project. For those considering any sort of historic preservation project, regardless of the scale, he also has some advice.
"You have to talk to the state historic preservation office when you have your property and ask them for help. They will help you," he said. "Don't listen to local historic preservation organizations. Don't, because they don't know, they're not practitioners. They are people who have ideologies about preservation versus people who are practitioners and do preservation who also have ideologies. Of course I do (have ideology), but you do because you do the buildings and you know the truths of how you do it and why you do certain things.
"No matter what, you have to steel your spine when you do these properties because there's always a problem. If you're a person who's frightened of things or who's frightened of the unknown, you don't do this."
Those considering a preservation effort also have to be sure the end result of the project makes sense. Chesler said he's approached almost weekly by people all across the state asking if he can help save a building or buy one and donate it back, but there has to be some business purpose or building use purpose or else there's no point in considering it.
As for the Carlisle, the red "X" over the main entrance denoting that firefighters should not enter the structure will remain until about a week before the building's opening, despite the progress of the project and the fact the structure has been stabilized.
"I want everyone to remember that this building was condemned and was so structurally deficient that if it burned again, the firemen were not allowed to enter," he said. "That's my ideology."
– Chillicothe Gazette July 26, 2015
Matthew Kent, Chillicothe Gazette Staff Writer – June 18th, 2014
Work on the renovation of the historic Carlisle Building is underway with some interior demolition and the installation of utilities at the structure.
Jeff Klecka, construction foreman with the Chesler Group, said Wednesday that crews were performing demolition inside in addition to putting in electrical and water lines at the site.
"Within a month, they're going to start tearing down the back," Klecka said.
Scaffolding work is expected to begin next week at the building as part of renovations being led by the Cleveland-based Chesler Group, with a target reopening date in fall 2015.
Adena Health System will be the main tenant, using the space for offices and living space for medical students.
The developer of the building, Michael Chesler, closed on the building last month and signed a 15-year lease with Adena in February. The downtown landmark has stood unoccupied since a 2003 fire damaged it.
Several efforts have been launched to renovate the structure in the years since the fire, but none gained any traction until the partnership between Adena and Chesler was formed.
Sidewalks surrounding the Carlisle are blocked off because of the ongoing work, which could cause minor delays for motorists because of construction vehicles in the area.
Chesler previously told The Gazette that stabilization efforts involving the Carlisle were estimated to take four to six months.
Chillicothe Gazette Staff – May 30th, 2014
In the more than 11 years since the Carlisle Building was severely damaged in a deliberately set fire, Chillicothe residents have endured multiple visions for the structure's renovation.
This week, the dreams of renovation drew closer to reality as building officially changed hands.
The Chesler Group officially closed on a purchase of the building and renovations will soon begin with a target date of reopening by next year. Adena Health System will be the main tenant, using the space to house offices and living space for residents.
The Chillicothe-Ross Chamber of Commerce announced the sale Friday, in its weekly newsletter.
"It is with great anticipation that we look forward to the renovation of the Carlisle Building and the revitalization of our entire downtown," said Tom White, chairman of the city's Downtown Development Commission.
Chesler has maintained that work would begin on the famed structure as soon as the closing was finished.
The renovation of the building has long been held as the main catalyst to downtown revitalization and was named as such in a outside downtown study conducted by Hyett Palma in 2007.
Matthew Kent, Chillicothe Gazette – April 29, 2014:
Preparations for the upcoming renovation of the historic Carlisle Building in downtown Chillicothe appear to be taking shape.
The developer of the iconic structure, Michael Chesler, said Tuesday that he plans to begin work in May that will first involve putting up scaffolding once technical and financial details are finalized.
Chesler, who leads the Cleveland-based Chesler Group, signed a 15-year lease in February with Adena Health System, which plans to fully occupy the building late next year.
The $7 million renovation project will have 32 apartments for medical residents and other office space for Adena employees once it is completed. The downtown landmark has stood unoccupied since a 2003 fire damaged the building.
Several efforts have been launched to renovate the structure in the years since the fire, but none gained any traction until the partnership between Adena and Chesler was formed. Chesler said he plans to scaffold the building beginning on the Paint Street side as one of the first steps in the renovation process.
"There are some structural defects, flaws and some structural problems on the Howson Building that are pretty evident for even a layperson to see, and we need to repair those structural defects probably first," Chesler said. "So we're going to have a lot of the debris coming off the front of the building and there's no room yet in the rear, and so we may demolish some of those outstructures.
"And so that's the plan."
He said that will mean "stabilizing parts of the building that are distressed and doing the demolition of the exterior outbuildings from the rear, and that phase will probably take four to six months of stabilization."
Once that is completed, Chesler said, crews will go inside and begin the interior restoration process. He confirmed that the completion date of October 2015 is still on track and that the overall project is ready to move forward.
"We're all ready to go, and we just have to finalize, get all the parties happy to go to work," Chesler said.
Preliminary construction estimates were being performed on the structure on Tuesday, said Todd Wallace, senior project manager with Cleveland-based American Preservation Builders.
Kelly Kight, the city's chief building official, also was among those gathered outside the building.
Kight said the city has issued a permit for the project to allow for temporary electric service in the back of the structure.
Chesler said residents of Chillicothe can thank the president and CEO of Adena Health System, Mark Shuter, for his efforts concerning the Carlisle Building.
"It's a gift to the community, and in addition to getting health care from that organization … they really need to recognize that it was all about Mark Shuter and the board at Adena that made it happen," he said.
Mayor Jack Everson said the renovation work will provide an economic boost to Chillicothe and Ross County once things get started, as Chesler has indicated he intends to use local contractors as much as possible.
Everson added that the upcoming project is a step in the right direction for Chillicothe.
"I think it's the catalyst to the rebirth of downtown," he said.
Steven Litt, The Plainer Dealer – April 22, 2014

A burgeoning cultural node in Ohio City on Cleveland's near West Side could soon get a serious boost if the nonprofit art gallery Spaces can raise enough cash to move into the neighborhood.
After months of quiet negotiations, Spaces is close to signing a lease with developer Michael Chesler, owner of the 14,000-square-foot brick industrial building at the southeast corner of West 29th Street and Detroit Avenue.
Moving into the area, dubbed Hingetown by local developers Graham Veysey and Marika Shioiri-Clark, would bring Spaces cheek by jowl with the new Transformer Station gallery, and with Veysey and Shioiri Clark's Ohio City Firehouse and Striebinger Building.
Also located nearby are ICA Art Conservation; the Van Roy Building, owned by Chesler; and the former Bop Stop jazz club, recently donated to University Circle's Music Settlement.
Chesler and John Farina, president of the Spaces board, see the opportunity for a strong fit with a neighborhood that is quickly becoming a West Side cultural mecca.
"This is an opportunity to graduate to the next phase of what Spaces does in terms of serving artists and the community overall," Farina said. "It's the next part of our evolution."
Chesler, who said he is offering Spaces a below-market lease, said he's equally pleased to have the chance to add to the dynamism of the area.
"We're going to do something cool that will benefit the neighborhood forever," Chesler said Monday during a tour of his building. "This [the potential Spaces move] would change the whole deal for this part of Ohio City forever."
Spaces, established in 1978, is devoted to showing experimental works by emerging and mid-career artists.
In November 2013, the organization signed a deal to sell its three-story, 19th-century vintage loft building at 2220 Superior Viaduct for $418,000.
The organization decided to sell the building, which it had owned since 1990, because the location came to feel isolated and unrelated to surrounding developments, including the StoneBridge Apartments, built in 2007.
Spaces recently signed a "hold agreement" with Chesler, which gives the gallery six months to sign a lease for the Ohio City building.
Farina said that Spaces has launched a $3 million capital campaign, of which it needs to raise roughly half, or $1.5 million, in order to sign the lease. So far, the organization has gathered $500,000 in cash and pledges, so it is pushing to raise the remaining $1 million by October.
Farina said his confidence about getting the job done is "high, very high. We're getting an excellent response. Nobody is coming back to us and saying, 'You guys are out of your minds.' "
Architect John Williams of Cleveland's Process Studio, a former president of the Spaces board, is designing a minimal renovation of the Ohio City building intended to preserve its rugged industrial look.
The interior would feature about 5,000 square feet of gallery space, about what Spaces has now in its Superior Viaduct building.
Built in the 1950s, the Ohio City building features a structure of steel columns and trusses with 20-foot ceilings and facades of brick and concrete block. Its most notable feature is a large window spanning most of its long west façade with windowpanes or opaque panels in varying hues that create a checkerboard look.
Farina and Chesler said they both feel the windows are essential to the building's identity, and that they intend to preserve their patchy appearance.
Chesler, who bought the building in 2011 for $270,000, said it was previously used as a fabricating facility for large steel water purification tanks.
Among its special features are a series of ceiling cranes that will be preserved and may be used by artists who need to move around heavy objects.
Christina Vassallo, who was appointed as the new executive director of Spaces in December, said she's thrilled to join the organization at what is shaping up to be a pivotal moment in its history.
She moved to Cleveland recently after having spent three years as executive director and curator of Flux Factory NYC, which organizes exhibitions, artist residencies and collaborative projects.
About the potential move for Spaces, Vassallo said: "We are still going to be Spaces, but with a very long future ahead of us."