Aircraft Welding Building
1436 East 31st Street
Cleveland, OH 44103
map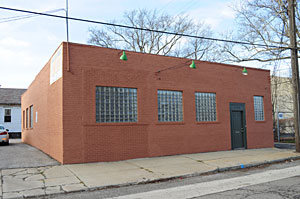 Parking
2 Cars, Free Street Parking
Total Square Footage
2,200 Sq. Ft.
Leasing Information
Available Space
2,200 sq. ft.
Availability
Immediately
Amenities
Office/Warehouse Flex Space, Single Tenant Building, On-Site Parking
Potential Uses
Office, Light Industrial, Contractors Shop
For more information, call (216) 431-9100.
Unique Features
Stand alone single story brick building. Great contractor's office and warehouse setting. Built in office furniture, new HVAC system, single dock door, and shower. Excellent Condition. ADA Compliant.
Location
Superior Avenue inner belt, a major thoroughfare to Downtown Cleveland. Easy access to I-90 and I-71. Bus stop directly to Tower City.
Photo Gallery